Itzbeen Baby Care Timer Review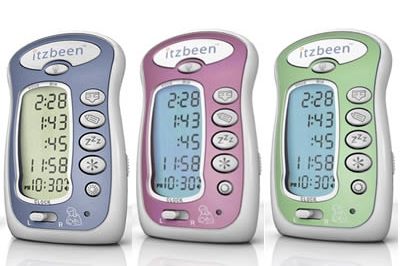 EDITOR RATING:
QUICK SPECS
The Itzbeen Baby Care Timer is the first multi-purpose nursery tool designed to help new parents remember the basic details of baby-care. The Itzbeen has four timers that count up with the touch of a button. No more charts and journals. The Itzbeen also allows you to set an optional reminder alarm for each of the timers, for example: change the diaper every 2 hours, or give medication every 4 hours. If the time limit is reached, the appropriate button will light up, and an optional alarm will briefly beep. The Itzbeen has several other helpful features: Nursing Reminder Switch – easily reminds mom which side baby nursed from last, Soft-glow Nightlight – to help parents find their way in the dark without waking the baby (the nightlight automatically goes off after 7 minutes), Backlit Display – so parents can read the times and the clock in the dark, and a Back Clip – makes the Itzbeen Baby Care Timer totally portable and allows for hands-free use of the Nightlight.
Itzbeen Baby Care Timer
is a multi-purpose tool that helps parents remember the essential details of baby care. It has four timers that count up with the touch of a button when its time to change diaper, feed or put the baby to sleep. Its soft-glow night light allows for use even at night. Designed for use from birth up to 24 months, this unique parent aid can also be used to help maintain baby's schedule when he or she is with other caregivers.
EDITOR'S REVIEW
Clean design and simple timer concept.
Great way to help maintain sanity for new parents during those crazy first few weeks after birth.
Helps manage your baby's schedule when getting help from grandparents, babysitters, and child care providers.
Built in flashlight.
Super portable, with a handy clip that allows you to attach it to a pocket, belt, diaper bag strap, car seat, etc.
Limited functionality. If you require more detailed tracking of diaper changes and feedings, you may want to consider trying some of the mobile apps that are available on the Apple or Android app stores.
The
Itzbeen Baby Care Timer
is great for managing the feeding and sleeping schedules of your infant…especially with a cloudy mind in those first sleepless weeks and months with your newborn. We are firm believers that a fairly tight daily schedule is a primary reason that both of our daughters are such a great sleepers and eaters. Our first daughter started sleeping through the night (Midnight to 6am) periodically at about six weeks, and did so regularly by eight weeks. Our second daughter followed roughly the same track. Their schedules certainly vary somewhat day-to-day, but by using this timer, we always know how much sleep our daughter has had at any point in the day, and when she last fed. This greatly reduces the fussiness that is normal when a child is overtired or hungry.
We used this timer in conjunction with the full feeding concepts presented in
Babywise
, along with the sleep, eat, play progression. Thus, if she started fussing and it wasn't quite her normal nap time, we could usually be fairly certain that she wasn't hungry (due to her recent full feeding), and probably just needed a diaper change. This takes so much of the uncertainty out of the equation, and has really made our days and nights much more manageable.
One thing that we have shifted to recently is to just use the Itzbeen Timer to track our second daughter's feeding schedule. Her feeding schedule has started to space out a bit more, and her napping schedule is completely synced up with her feeding, so in an effort to accommodate her evolving schedule, we set each timer to 30-minute increments (2:30, 3:00, 3:30, and 4:00). The first button will start to blink at two and a half hours, the second at three hours, and so on. This basically queues us up to get ready for a feeding at 2:30 or 3:00, but allows us to monitor the blinking lights a little more passively (i.e. can see them from across the room). So far so good.
Bottom Line
We used the
Itzbeen Baby Care Timer
pretty much everyday to manage the feeding schedule throughout the first year of our first daughter, and have used it everyday thus far with our second. We consider it a key piece of gear for our
family
, and never leave home without it. Hopefully, you and your family will find it just as useful.